We use a multi-million dollar, third party hosting facility to house all of our customer websites. The reason we use a third party facility for this is because of the hosting capabilities, equipment, support, redundancy, business continuity planning and security that they provide. This type of facility specializes in providing services for web hosting companies such as ours.
Our Technical Service Provider facility is one of the largest colocation facilities in Dallas, Texas, Colo4Dallas (www.colo4dallas.com). This diverse powerful network featuring Level (3) and Internap provides our customers optimum speed and reliability; also offers high speed connectivity from multiple carriers and clean IP addresses in a true carrier neutral environment.
Located at the edge of downtown Dallas on one of the most fiber rich routes in the city, the fully-equipped, 28,000 square foot facility is staffed around the clock. With uncompromising standards for security, power supply and environmental controls, with the focus on connectivity, redundancy and resilience.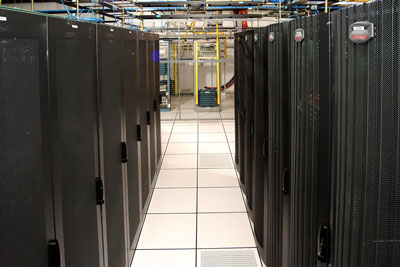 We use a facility like this to:
Keep critical internal and customer-facing applications secure.

Ensure applications are up and running 24 hours a day.

Increase efficiency through high availability.

Be ready for spikes in bandwidth demand.

Rapidly adjust configurations as our business needs change.

Eliminate the expense of building a private communications infrastructure.

Maximize speed and performance with direct backbone connectivity.

House our equipment in an environmentally controlled, secure facility with around-the-clock monitoring and uninterruptible power supply.

Access the bandwidth you need and be ready for spikes in demand.

Technicians on-site 24/7/365, with no exceptions.
Power Systems: Colo4Dallas uses automatic backup systems to ensure constant, uninterrupted power to to the server cabinets.
PowerWare and Leibert UPS systems operate independently to provide true redundancy.

Multiple diesel generators covering the entire facility remain on standby.

If commercial power fails, automatic transfer switches (ATS) immediately activate generators, monitor electric feeds and transfer stabilized loads to generators.

The UPS systems keep equipment seamlessly powered, preventing resets while generators kick in.

Plus, staff on-site 24/7/365 walks through the facility and checks equipment performance.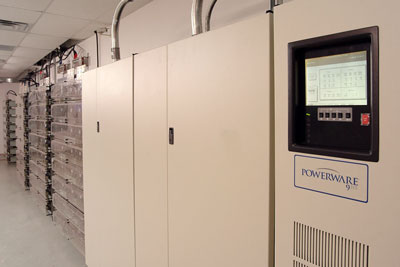 Communications: The facility uses a First-Class, superfast network optimized for performance, using Gigabit Ethernet connections from Internap and Level3. And, each network has its own entrance to the facility. Some of the features are:
Level 3/InterNap – Multiple tier 1 carriers with diverse building entrances

Cisco 6500 – Fully redundant Cisco architecture using 6500 Layer3 switches and hot swap router protocol (HSRP) failover protection

InterNap FCP – Internap FCP appliance definitively identifies the fastest route for your data

1 Gbps Connection – Gigabit Ethernet for all carrier and internal network connectivity, two direct network feeds to our equipment via separate switches

100% Service Level Agreement to us for our equipment guaranteeing performance.
The facility provides connections to 10 different internet backbone providers providers: Internap, Level 3, AT&T, Time Warner Telecom, Quest, Cogent, Yipes, Looking Glass Networks, Alpheus and OnFiber.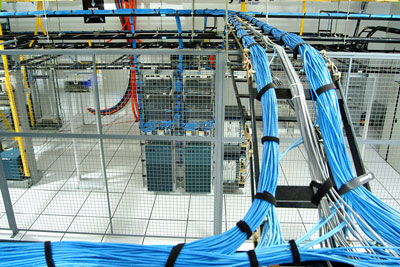 State–Of–The–Art Security The facility uses sophisticated security to protect your data. This includes biometrics technology to secure entrances and access:
Biometric scanners

Multiple layers of 24×7 security cameras, card readers and keypads

Equipment area accessible only with cardkey and keypads

Noncustomers enter equipment area by escort only

All cabinets, cages and suites are locking, with security upgrades available

Facilities monitored with 24-hour recording and 5-day video storage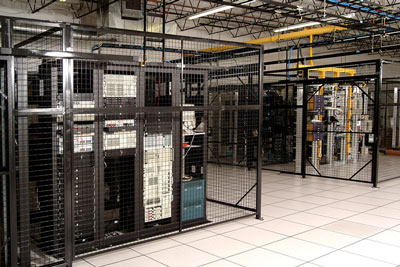 Advanced environmental and fire suppression controls ensures that your equipment and data are protected in an ideal environment:
Cabinets laid out for optimum airflow – hot and cold aisles separate exhaust and intake

Solid cabling routed neatly overhead – easier for moving equipment

Facility stays a constant controlled 70 degrees

Industry-leading Liebert air units for under-floor cooling and humidity control

Pre-action dry pipe fire suppression rated for telecommunication equipment/computer rooms

Integrated smoke/heat detector system